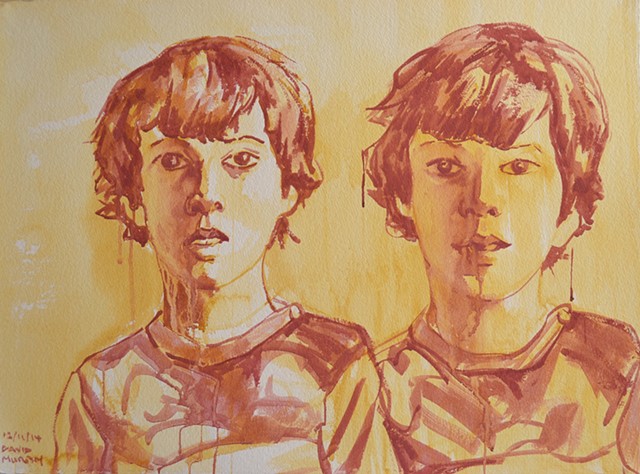 Hello, my name is David Murphy. I am a fifty-two-year-old (b. 1971) Irish hardcore Expressionist/Realist painter and writer living and working in Dublin, Ireland. I have painted since before I can remember, but I have been painting seriously for forty-one years - and my surviving oeuvre contains thirty-five years' worth of paintings and drawings. The greatest artistic influences on my work have been Gothic, Baroque, Realist, Expressionist, Neo-Expressionist and Outsider Art.
My work is an anti-social, solipsistic, explosion of uncensored desire, and unregulated emotion. My art and writing are both forms of nihilistic polemic. I am completely alien to art history and there are few artists with whom I can even be compared. Perversely, although I make erotic and pornographic art – I am influenced by hardly any erotic or pornographic art, because with a few exceptions like Schiele and Picasso I find such work kitsch, simplistic and technically sub-standard. On the other hand, although I am stylistically influenced by many expressive artists, my content is derived from hardcore pornography, psychology, psychiatry, philosophy, and alternative music. The nearest artist to me was the equally transgressive, alienated, and unique Egon Schiele. Although artists from the 1990's played games with pornography and told jokes about sex - only I fully embodied porn, pathologized it, and thus made it even more extreme.
My artistic heroes are Pablo Picasso, Julian Schnabel, Jean-Michel Basquiat, Vincent van Gogh, Lucian Freud, Richard Gerstl, Egon Schiele, Ernst Ludwig Kirchner, Willem de Kooning and Rembrandt Harmenszoon van Rijn.
A list of my subjects would include self-portrait busts, nude self-portraits, female nudes, kissing couples, erotic scenes, landscapes, gestural abstractions, text paintings and most controversially pornographic scenes including fellatio, cunnilingus, intercourse, and sodomy. My themes would include madness, isolation, loneliness, voyeurism, and mediated desire.
I do not have a single qualification to my name, and I am largely self-taught as an artist and entirely self-taught as a writer and intellectual. My art education - such as it is - consisted of a series of night classes taken intermittently over the course of twenty years, from the age of thirteen to thirty-three (mostly with private tutors between 1983-85, or in the National College of Art and Design in Dublin between 1992-1994 and 2003-2004). As well as one ill-disciplined year in Dun Laoghaire College of Art and Design from 1989-90, where I was accepted based on exceptional talent.
As an anarchistic, existential, expressionist, my work is also a rejection of every art world orthodoxy since the 1960s from Marxism to Feminism, left-wing aesthetics, philosophy and politics, and the dictatorship of linguistics.
Since the age of sixteen, I have only ever used artist quality materials, even though they cost more than twice the price of student materials. I am intoxicated by the expressive, evocative, poetic, and imaginative power of oils, watercolour, pastels, and traditional drawing techniques. Thus, my mediums are mostly defiantly old-fashioned; pencil, brush and ink, pastels, watercolours, alkyds, acrylics and oils and I use them in a manner the Expressionists over a hundred years ago would have recognised. What matters to me is individual creativity, personal vision and traditional qualities of craftsmanship, skill, authenticity, necessity, and accountability. For me, an artwork is validated by its manual skill, emotional authenticity, originality, and transgressive power. As such I am virulently anti-Modernist. However, I have had to fight tooth and nail, to express my own very private vision against artistic and social norms.
At heart, I am an expressionist artist; my art is the very opposite of 'arts for art's sake', in fact I see no separation between my art and my life, both feed from each other to form a highly personal and autobiographical art.
My approach to art is distinctly expressionist in character - my work tells stories about the human condition – which most can recognise and read – even if they cannot identify with it. Unlike other expressive painters whose expressionism is merely a form of stylistic filter they apply to anything and everything – my expressionism emanates from the subjects I paint - making it even more extreme. That is why, there is frequently a massive adrenaline drop in the intensity of my landscapes and still-lives, compared to my abstracts and female nudes, and especially my self-portraits and pornographic scenes. I am remorselessly self-critical, and my work is obsessed with the 'self' and the 'other' represented by the world. The fiction of me as a primitive outcast exploding with painterly rage, remorse, and anguish fuels my art and forms its identity.
As a contemporary painter of porn stars (the twenty-first century mediated equivalent of Baudelaire's whores) I am entranced by the pornographic 'frenzy of the visible'. Because as Baudelaire observed: "[The whore] is a perfect image of the savagery that lurks in the midst of civilisation. She has her own sort of beauty, which comes to her from Evil always devoid of spirituality… In that vast picture-gallery which is life in London or Paris, we shall meet with all the various types of fallen womanhood – of woman in revolt against society – at all levels… Some of these [whores], examples of an innocent and monstrous self-conceit, express in their faces and their bold, uplifted glances an obvious joy at being alive (and indeed, one wonders why). Sometimes, quite by chance, they achieve poses of a daring and nobility to enchant the most sensitive of sculptors, if the sculptors of today were sufficiently bold and imaginative to seize upon nobility wherever it was to be found, even in the mire… in a foggy, gilded chaos, whose very existence is unsuspected by the chaste and the poor, we assist at the Dervish dances of macabre nymphs and living dolls whose childish eyes betray a sinister glitter…" (Charles Baudelaire, The Painter of Modern Life, The Painter of Modern Life and Other Essays, London: Phaidon, 1995, P. 36-38.)
I had minor solo exhibitions in Dublin in a grotty media centre in 1994, in a shabby anarchist bookshop in 1996, and in a pub in 1997. Then in 2000 and 2002, I had two major shows in the Oisín Gallery in Dublin - but before and since I have had mostly rejections - many of them extremely disgusted and dismissive.
To date my oeuvre contains over 4,886 paintings (acrylics, watercolours, oils, alkyds, mixed-media, collages, pastels, or gouaches – mostly on 140lb/300gsm watercolour paper) and over 3,478 drawings (pencil, ink, coloured pencils, chalks, charcoal, or permanent markers – mostly on 140lb/300gsm watercolour paper.) I have also produced 4 sculptures, 27 mono-prints, 15 scrapbooks with examples of art I admire and 78 notebooks with over 3,500 sketches. I have also taken thousands of documentary and family photographs, but I do not consider myself a photographer. I am merely a documenter of my own life and working practices. My surviving oeuvre represents only those works that have survived my own self-critical destruction. On average, I have destroyed about 20% of my initial artwork production. All my works including my mono-prints are handmade, unique, one-off pieces - made entirely by myself without assistants or technicians and with the best artist quality materials. However, of 4,886 paintings only around 260 or about 6.3% of them are on canvas, board or found objects - the rest were painted on watercolour paper. My lack of a studio and storage space, poverty, marginalization, and my excessive creativity has forced me to work mostly on paper.
Drawing is the most creative, pure, and direct medium amongst all the visual arts, flowing from the artists hand and revealing its life force on the paper. Paper is not simply a screen on which an artist works – it is an active participant in the creative process. Ironically, I forced my personal tragedy upon paper and expressed most of my artistic and sexual muscle and wounded machismo on humble sheets of paper. I am a connoisseur of the finest papers and many cheap ones as well. Every kind of paper has its own qualities and I have worked on Daler Rowney cartridge paper; Daler Rowney, Canson and Fabriano pastel paper; Sennelier pastel card; Winsor & Newton acrylic paper; Arches oil paper, Fabriano oil paper, Winsor & Newton oil paper; Cotman, Bockingford, Fabriano, Arches, Clarefontaine and Moulin de Plombie watercolour paper; as well as Indian Khadi cotton rag; Nepalese vegetable paper; Canson The Wall marker paper; and Clarefontaine multi-media paper. Many of these papers when placed against the light revealed a watermark. But I also worked on thick sheets of acetate with permanent markers, my own photographs, porn magazine pages, reproductions of World War Two maps, reproductions of vintage newspaper sheets, pages from books like ones on Sade or women's sexual fantasies, reproductions of erotic prints, CD album pages, photographs, exhibition invitation cards, commercial advertisements, psychiatric medical packaging, photocopies, wallpaper and fancy papers. But usually, I coated these commercial lower grade papers with a layer of acrylic matt varnish with UV protection to help preserve them. I have also made use of various mediums on paper (individually or in combination) like; pencil, coloured pencils, Conté, Indian ink, permanent markers, gouache, watercolour, acrylic, alkyd, oil, oil-stick or spray-paint.
Because I am terrified of criticism and embarrassed by praise, chronically shy and loath most interactions with real people, about 80% of my work has been based upon photographs, of which about 75% were found in the media. Even most of my self-portraits were made from Polaroid's, video-stills, photographs, and JPEGs, because I did not like looking at myself in the mirror, I found it tedious, and disliked the limited number of expressions I could capture looking in a mirror. Even if I had the money to hire models to paint or photograph, I would not do it. I do not want any involvement whatsoever with who I paint and do not do commissions. I am so introverted that I have preferred to work indoors, under artificial light, at night, from; newspaper and magazine clippings, black and white photographs of classical sculptures, movie stills, television screen grabs, glamour photographs, images lifted from pornographic magazines and videos, anatomy prints, vintage erotica, postcards, reproductions of artworks, internet JPGs, sports action shots, web pages, children's books, family photos, personally taken photographs of myself and friends and scenes from my holidays. I use these sources as a way of reacting to and commenting on the world without participating in it.
Yet, while these various forms of photographic sources provided the starting point for my work, their real subject was my own expressive manipulation of paint, used to express my anxiety. Unlike most of my contemporaries who use photographs to critique photography and express alienation - I use photographs as a pretext for my own subjective responses. Like a dark poet of reality, I remake familiar images, turning them into revelations of myself and my anguished vision. While most of the photographs I use, were taken by people who had at least an indirect relationship with the people and places they photographed, my relationship is only with the resulting image. Moreover, as an introvert, fearful of real involvement with the world, and as a voyeur who takes the most pleasure in just looking - I am happy with this lack of real involvement.
The conservative art critic Robert Hughes was no fan of artists using photography and mass media as inspiration for their work but even he had to concede that: "There is scarcely an important artist of the past hundred years around whom a book could not be spun, and a show constructed, with the title "Fred X and Photography"". (Robert Hughes, Horrible!, The Guardian, August, 2008.)
As Baudelaire has pointed out, photography can poison vision. It records reality, but lacks an imaginative component, and as Gary Indiana has commented "the camera cannot lie, but it also cannot tell the truth." (Gary Indiana, "Report from Paris," Art in America, May 1984, P. 36.) When painting from life I do not feel any need to do anything but record what is in front of me. However, when working from photographs I feel compelled to ramp up the intensity of line, colour and texture to make it more a work of my own. I do not copy photographs - I interpret them! The shock of my work is that I take 'objective' mechanical and electronic images – often of the most extreme kind - and personalized them. I use them as props, which I manipulated visually to express my individual moods and reactions to such imagery. This was a pre-condition I set on all my 'copies' from photographs from 1987 onwards. I do not slavishly stick to the photographic image as Photorealists do (my alkyd painting Country Road, 1988, based on a photograph my father had taken, was one of the few notable examples of dispassionate copying in my oeuvre.) And even when I have tried to be my most academic, disciplined and 'objective' – my pathological anxiety has seeped into the facture of the painting.
If you want consistency in an artist, you will never find it in my work. Most artists only ever do one thing. My art is not dependent upon a single style or manner. It has many strands. Taking my art as a totality, does not mean that it everything is of equal value. There are major works but there are also many minor works of lesser value. However, the cumulative effect gets more powerful the more I produce and the more I complicate things. My paintings are an example of unfettered creativity made selfishly without the restraints of Art Colleges, galleries, curators, or critics. My work is an art of absolute freedom.